Gathering for MSC Engaged in Traditional Mission Arenas
2013 2-5 May, 2013, Sydney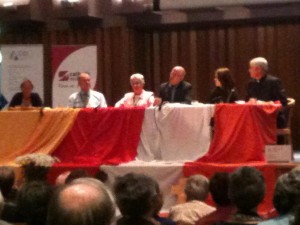 The first part of the Missions Gathering was to join the initiative called Mission: One Heart Many Voices.
This was a Conference jointly organised by Catholic Mission Australia and Catholic Religious Australia. Over 300 people attended this conference from all over Australia and overseas, which was held at the Salvation Army Auditorium in Sydney.
After these three days of conference about 25 MSC from areas including PNG, Japan, Northern Territory, South Africa, India, and other countries, met at Kensington Monastery for two days of facilitated reflection.  I had the privilege of facilitating the group and as always finished grateful for the way in which the Holy Spirit works within us, and for the courage and listening hearts of the participants.