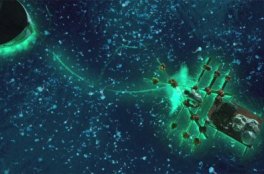 After recently seeing the film Life of Pi, the scene of Pi in awe at the fluorescent ocean (image left), found its way into my breath meditation. The following poem, expresses my experience.
Intense lazer pain in joint between fourth and fifth fingers within the hand.
Sit up moving the energy of Divine Light that is held in my hands.
Gazing into that light I see such intensity of fluorescence and phosphorescence.
The overhead scene from Life of Pi, floating in an ocean of lights in the mill-pond night – scenes from AVATAR of sheer and intense, resounding, abundant beauty.
All this in my hand.
The depths contain iridescence, luminosity, radiant glory.
I am in awe at your magnificence; sheer beauty; radiant beauty; luminous beauty.
There is a swelling in my breast, as I am awed into sheer silence and endless gaze.
My tears cry to come home to you …
I am like a boy adrift on your ocean of lights,
I am at once agog and entranced, and wish to throw myself into you to be submerged, immersed, one with your total beauty.
And yet how can I?
for then I should drown and be no longer able to set my eyes upon your spectacle.
So near and yet so far.
Every fraction of a moment is an eternity.