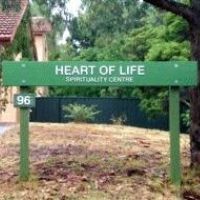 Story Telling and Visual Images in Spiritual Direction
June 25 – 29:
An opportunity to work with an esteemed mentor presented itself to me in June when I joined Peter Malone msc to co-facilitate a week-long program of Professional & Personal Development for Spiritual Directors. The five-day intensive for practising spiritual directors, focussed on story telling and visual images in spiritual direction. Peter has a brilliant knowledge of film and used moving images to assist people in exploring their personal and spiritual journey. He focussed particularly on what he terms visuacy in the world of images; a parallel concept to literacy in the world of reading and writing. The program used film and other modes of telling story through image, combined with experiential sessions in the practice of spiritual direction and image focussed process-work. Peter's engaging style of presentation and breadth of experience matched well with my own practice of facilitation influenced by my background in Transpersonal and Emotional Release Counselling, supervision and spiritual direction. The participants expressed much appreciation for the week and Peter and I have been asked to make an encore performance next year.
Meditation and Mindfulness
August 9, 16, 23, 30, and September 6:
This year I once again presented a series of instructional seminars on the practice of Meditation and mindfulness. This is the third year that this has been offered and this year's group of participants came from a broad range of backgrounds – students studying at Heart of Life, a number of people both men and women in their eighties, and one lady who has attended every year for the past three years with the same enthusiasm she had on the first day she came. They were such a generous group to meditate with.
Each of the five Thursdays had its own theme;
• Posture, Breath, Surrender
• Concentration, Stillness, Silence
• Attachment – Attraction & Aversion
• Compassion, Reconciliation
• Healing, Awakening, Transformation
Sessions were experiential involving Meditation technique and Mindfulness exercises inviting participants to be still and go within. I have personally been deeply enriched over the last twenty years while facilitating people in the practice of mindfulness.
I see mindfulness as a valuable approach to both meditation as formal prayer, and prayer as life, which is borne out of my experience of the power and sanctity of being in the present moment. When I am present to this 'now', centredness and relaxation become a natural part of the landscape of life, and clarity around knowing how to act in the world from a heart of love follows.