After a nonstarter in March, the second "Time for Men" Saturday for 2013, was held at Heart of Life Spirituality Centre on June 8th.  Three men joined facilitator Chris Chaplin msc, to share 'life stories' and talk through topics of interest that came up during the sharing.  The Spirit of respect and generosity was evident from the outset.  The lengthy sharing was most enriching and highlighted how diverse and rich are the different lives of each.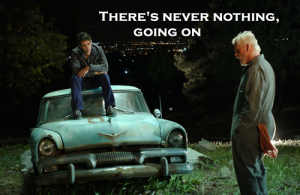 After a shared lunch, we watched the movie "Peaceful Warrior" for later reflection and discussion – or correction we attempted  to watch it , but a facilitator's worse nightmare; the wrong disc drive and an incomplete version of the movie.  Oh well the small group continued on valiantly with missing narrative provided by intermission story-telling.  Some time for contemplative presence to how the film moved within us followed and then an opportunity to speak to that.
The day concluded with a short time for intercessory prayer within the context of some challenging poetry and the text from 1 Corinthians 2:
When I came to you, brethren, I did not come proclaiming to you the testimony of God in lofty words or wisdom.  For I decided to know nothing among you except Jesus Christ and him crucified.  And I was with you in weakness and in much fear and trembling;  and my speech and my message were not in plausible words of wisdom, but in demonstration of the Spirit and power,  that your faith might not rest in the wisdom of men but in the power of God.  Yet among the mature we do impart wisdom, although it is not a wisdom of this age or of the rulers of this age, who are doomed to pass away.  But we impart a secret and hidden wisdom of God, which God decreed before the ages for our glorification.  None of the rulers of this age understood this; for if they had, they would not have crucified the Lord of glory.  But, as it is written, "What no eye has seen, nor ear heard, nor the heart of man conceived, what God has prepared for those who love him,"
The next "Time for Men" Saturday unfortunately coincides with the Federal Election on September 14th, 10am to 4pm – but perhaps that is not such a bad day for Men to come together to reflect a little deeper and perhaps to behold the country from a more contemplative stance.
If you're coming please bring a mate with you and of course some lunch.  Please don't allow financial constraints stop you from coming.  Several questions about meditation were heard in the course of the day, so we agreed that Meditation Practice will be a focus for our next "Time for Men".
Blessings to all Men.